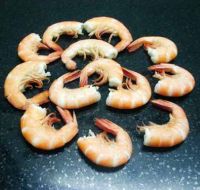 Welcome to the thriving world of Primeline Products International. Our Service Organization deals in all kind of Fresh and Frozen Sea and Marine Food Products. Our accredited processing plants helps in delivering Raw and Cooked Products in Black Tiger Shrimp, Fresh Water Scampi, Vannamei shrimp, Seacaught Shrimp, Squid, Cuttlefish, Octopus, Crab, all varieties of Fish and Surimi Products.

We offer products only from HACCP, EU, USFDA, ISO, BRC, ACC etc accredited processing plants, which helps in delivering various Fresh, Frozen and Value added Seafood and Fish varieties in IQF or Block form, from all locations across India to meet the growing World Wide demand.
Our unsurpassed range of seafood items are as follows :
Black Tiger Prawn
Breaded Shrimp
Cooked shrimp
White / Vannamei shrimp
Shrimp skewers
Freshwater Prawns
Marinated Shrimp
Sea Caught Shrimp
Cuttlefish
Squid
Octopus
Crab
Surimi
Seafood Mix
Fish varieties like King Fish, Pomfret, Ribbon fish etc.
Our trained and dedicated Quality Assurance Inspectors continuously monitor Seafood Processing and their final product inspection, guaranteeing delivery of coherent quality seafood to its customers. So come and bargain a unique range of Seafood and Marine Food items.